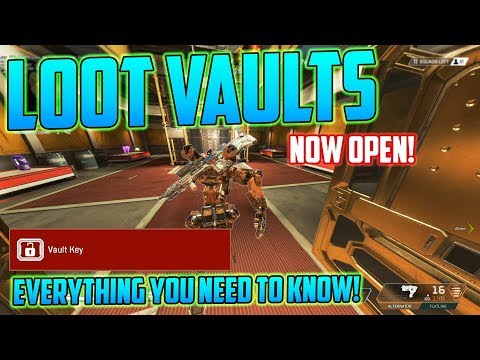 Apex Legends loot rooms are now open. Here is everything you need to know about the loot vaults. How to find keys, how to find vault areas, and more! So let's talk about the basics. How do we know that a loot bot will drop a key?
Follow me and watch me stream Apex Legends:
Stream: https://www.twitch.tv/thegamingmerchant
Join the Discord: https://discord.gg/thegamingmerchant
Twitter: https://twitter.com/gamingmerchant_
TikTok: @thegamingmerchant
It's quite straight forward. All bots that carry a key will have one flashing red tile, like you can see on the screen now. There's no audible differences so you have to keep your eyes peeled. Thankfully they can be spotted from quite a difference.
If a loot drone has a red tile, it doesn't matter what color it is when you shoot the ball down. It will still drop a key.
Next, how can we find the loot vaults on the map? There are three loot vaults in total, and they appear on the map if you have a loot key in your inventory. You can also see which loot vaults are open and which aren't. That way you aren't wasting time travelling across the map to a looted room.
The loot key will take up an inventory slot, and if a team mate picks up a key, they'll play a voiceline saying that one has been picked up.
First – Strangers – Le Gang –
––––––––––––––––––––––––––––––
Strangers by Le Gang https://soundcloud.com/thisislegang
Creative Commons — Attribution 3.0 Unported — CC BY 3.0
Free Download / Stream: http://bit.ly/2CuH5Xl
Music promoted by Audio Library https://youtu.be/IjFa_UDzNrc
––––––––––––––––––––––––––––––
Final songs – Lakey Inspired
https://www.youtube.com/channel/UCOmy8wuTpC95lefU5d1dt2Q
#apexlegends